So my last post was about maternity skirts. Well, I wore them everyday till I had my baby. They made the last month of pregnancy easier to bear because I could throw any top on and have a comfy, stylish skirt to go with it-one less headache for a very pregnant woman!
Anyway, I had my baby on the 17th of June and we named him Edmund. My due date was actually the 16th, so the little one was almost spot on! He was born about 12:25 am, so was only 25 minutes late! With my first, I was about a week early, and my mum had all four of hers a week early, so I thought it would be the same with this one. My doctor told me a week earlier than the head had engaged and I was ready to go anytime soon, so a week before the due date, I was literally sitting down all week at home, waiting for contractions to come. I got a bit tired of it after a week, so I decided to just go out and do everything I normally did again, pregnant or not!
On the night of the 15th, I had contractions that were around 10 minutes apart, so decided to go the hospital-but then they went further and further apart and then fizzled out completely. The next day, the contractions came again, but only came close if I kept moving-the minute I sat down, they started to space out further again. Took all day, still the contractions wouldn't come close. I was admitted to the labour ward at 8pm, and had my waters broken at 10pm. After much huffing and puffing and blowing the house down, Edmund was born 2 1/2 hours later.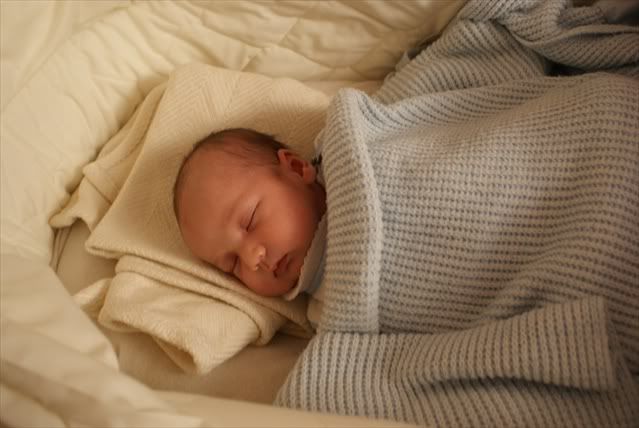 So the last few weeks were about adjusting to this new human being. I had mum here for three weeks, which was great. William got to meet his 'Po Po' and get to know her and had someone to go to if I was busy with Edmund.
Well, now we've got two and let me tell you, mum's who have several little ones-hats off to you! You're amazing! It's a juggling act to meet the demands of a toddler and breastfeed a newborn. On top of that, you still have to keep house and look after hubby and yourself. It's quite draining. I had no sleep the first 5 days, so I was grateful for my mum's help.
But things are settling in. It feels like a real family now that we've got two little ones. With just one, there's still a sort of singlehood to it. One baby is pretty portable. Two-you're grounded. But in a nice way. It's lovely to be a family and it's all worth it.
What else have I been up to? I bought myself a couple of furs! A little treat to myself for my upcoming birthday. I found the fur jackets online on Gumtree. The lady had only put up pictures of one which I really liked, but also said she had more. I met her and tried on a second fur she had and fell in love with it as well, so ended up with two.
This first fur is a light brown and white rabbit. It has a shawl collar, two front pockets and a snazzy red lining. $40. Size 10.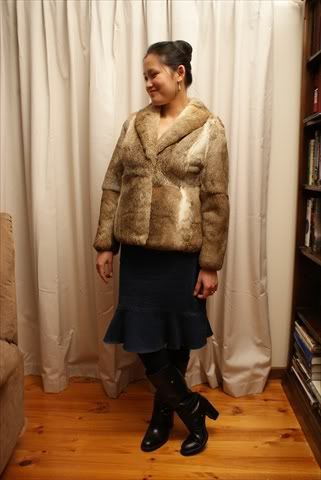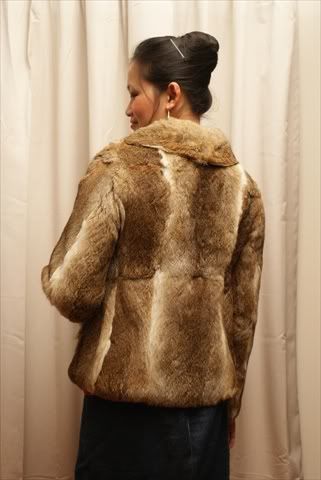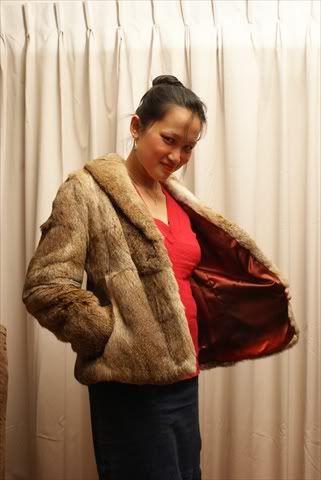 This second fur is a grey rabbit, maybe a chinchilla. It has a stand up collar and two front pockets. Also $40. Size 10.
The seller reckons they are probably 30 years old-but they smell really clean and are in pristine condition for their age. The furs are beautifully soft and very luxurious. The hairs are tight and doesn't shed. A great vintage find! Can't wait to wear it out somewhere!
And a couple of weeks ago I found a skirt marker at Vinnies for $5. They sell for around $30 at Spotlight, so I'm pretty happy with my find. For those not in the know, it's for marking the hems of a skirt . It sit on the floor. You adjust the marker to rest at your hem length, and you sqeeze the little pump, which will blow chalk powder unto the skirt, marking the hem. You're wearing the skirt of course, and you squeeze the pump at intervals while you slowly turn full circle. Voila! Evenly marked hems.