I first wrote about our dining room makeover in January (
read about it here
). We've since made a few more improvements to it. And I'm so happy about how it turned out that I just had to write about it.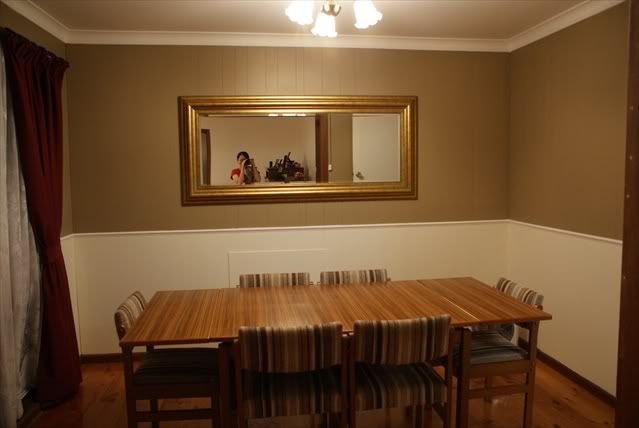 This was the way it looked when it was finished in January. However, as you can see, it still looked rather plain. It still needed a lot more dressing up.
At that time, we were still a little hazy about how to really finish the look of the room. I hated the chair coverings, and at that time, was quite decided that I'd reupholster them-although I have no idea how to do it. We didn't have a nice tablecloth that fit such a long table-we had one that looked very dated and 70's that ruined the look of the room. And that bare wall just begged for a painting.
I went to work. I went to Spotlight down my road and rummaged the bargain home dec fabrics table for something suitable for a tablecloth. I got out two candlesticks that had been hibernating in the cupboard for a year. And I made a flower arrangement for the table. I also made a runner for the table out of some remnant curtain fabrics (curtains that I sewed for the kitchen.)
For the bare wall, we went to the local South Australian Art Gallery and had a browse of their selections and ordered a canvas reproduction of an exquisite life-sized painting in half-size. And then had it framed to suit the mirror (and the painting of course.)
And this is the result.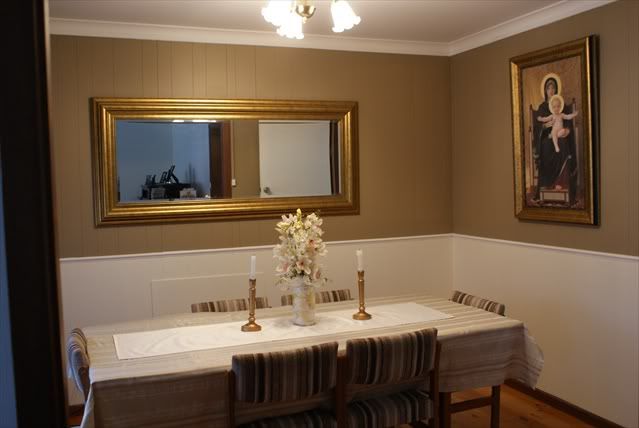 Part of the flower arrangement came from the floral arrangments from our wedding (I had fresh flowers for bouquets and table centrepieces, but used some artificial orchid sprigs for the pews). The vase is actually a glass biscuit jar stuffed with wide organza ribbons from the wedding to hold the flowers in place.
The tablecloth is a textured fabric in graduated creams and beiges. And it was a happy coincidence that they sort of match the chair coverings and makes them look quite acceptable. And those candlesticks came from a Salvos opshop!
The painting is a canvas reproduction of
William-Adolphe Bouguereau's
Virgin and Child (1888). The original hangs in the SA Art Gallery, and is a life-sized painting of Our Lady and the Child Jesus. Bouguereau was an artist of the Classical school, and was famed for his ability to paint luminous and life-like skin tones. His skill in painting the hands and feet was second to none.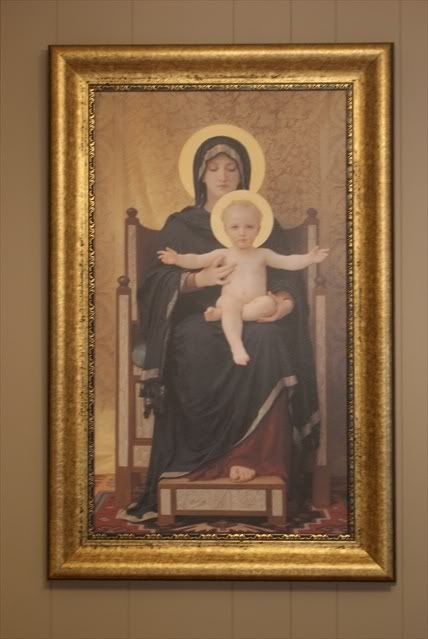 The detail in the painting is amazing. The gold backdrop has folds to depict drapery, and even the halos are ornately decorated. We went to visit the art gallery before we took the plunge, but it wasn't a hard decision. We knew we loved the painting and had to have it.
So there you have it. We are quite, quite happy with our dining room.